Friday, November 22, 2013
Thursday, June 6, 2013
Culumacilinte passed on a meme to me (thank you, C.!), asking to give ten random facts about myself - so here we go!
(Apologies if I can't - and this will likely be the case - think of anything interesting.)
1. I am an astronaut. I prefer my middle name (Constance) to my first name but I never use it. Siân is so short and dull sounding but I suppose I've become used to it.
2. I'm the granddaughter of a member of the Magic Circle.
3. Some of the things I was frightened of as a child included: water going down the plughole, E.T., human characters in the Moomins, the Ventriloquist from Batman, litter, people spitting, my brother's bedroom, The Real Adventures of Johnny Quest, space, the Usborne Book of the Supernatural, and accidentally wishing on a star that I would become a werewolf.
4. Strangely enough, when I was a teenager I was really into science-fiction and anything to do with werewolves. But I was still neurotic. :B
5. I'm really clumsy. And 5'10". Which isn't a good mix.
6. I dislike the number six. When I see a number six, I have to counteract it with a number seven. It's an O.C.D. thing.
7. Ah, can I steer this list away from my neuroses? Hum… I work in an art gallery?
8. My favourite English prime minister is William Pitt the Younger.
9. I met two of my best friends when we started secondary school together, which means I've known them for fourteen years. More than half of my life.
10. Tea is my ultimate weakness. Or maybe it's cake? It is probably tea and cake.
Monday, April 8, 2013
Since I told a couple of people I would, I thought I'd better say that I have another tumblr now (which is at sixsmithery.tumblr.com). It's nothing very exciting but you are welcome to follow me there if you wish. :3
(Maybe I will also update this one at some point, if I ever draw anything I don't hate.)
Tuesday, December 4, 2012
Wednesday, November 21, 2012
It occurs to me that, on the 21st of November, as it now is, I should be thinking about sending cards. So, if anyone wants a card for the winter holiday of their choice, do get in touch. :D
(I do not have a relevant gif so this will have to do…)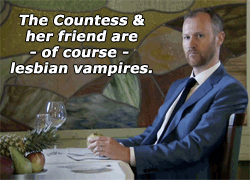 Saturday, September 22, 2012
colqhoun said: Something Lucretia or Illithyia would wear! THAT ISN'T USELESS AND VAGUE AT ALL. Alternatively, which regeneration of The Doctor you think has the best fashion sense. FAVOURITE CLOTHES, NOT FAVOURITE INCARNATION :o Unless they are the same I mean, go wild
Ah, well… I have actually chosen neither of these options! I did start on the Lucretia/Illithyia idea. But then I drew a hand the wrong way around and only realised once I'd inked it so I gave up… Also, to dress like Lucretia you need boobs. Fact.
I ended up drawing the kind of thing I would wear as a Time Lord. Which is a bit like the second idea?
What looks like a monocle is actually something known as an O.G.L.E.D. (Optical Glass Learn and Engage Device).
I have not put too much thought into this.
P.S. Thank you for humouring me. ;__;
Monday, September 17, 2012