Otters On A Plane
Apr 08
Since I told a couple of people I would, I thought I'd better say that I have another tumblr now (which is at sixsmithery.tumblr.com). It's nothing very exciting but you are welcome to follow me there if you wish. :3
(Maybe I will also update this one at some point, if I ever draw anything I don't hate.)
Dec 04
"Nothing, nothing to be understood."

"Toward the shining silence which it could never reach."

"And did you think it was strange?"

"…the spirit of his statement is evidently quite different from that of Franklin."

…um

well, the nearest book to me was my social theory textbook…

"punched him"

"If it pleases Your Grace"

WELP. THANKS, GOT.

"She braced one foot against the sofa, heaved him by the beard, and swung him to the floor."

Thank you, Laini Taylor!

'Then over sea-roads/ exiles arrived, sons of Ohthere.'

I would be all for the musical of my life being an Anglo-Saxon epic, just sayin'.
"I carry with me from this street / The tangled prints of London's feet!"
(Source: memethings)
Nov 21
It occurs to me that, on the 21st of November, as it now is, I should be thinking about sending cards. So, if anyone wants a card for the winter holiday of their choice, do get in touch. :D
(I do not have a relevant gif so this will have to do…)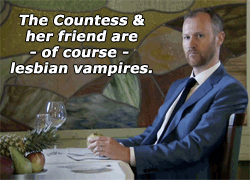 Sep 22
[video]
colqhoun asked: Something Lucretia or Illithyia would wear! THAT ISN'T USELESS AND VAGUE AT ALL. Alternatively, which regeneration of The Doctor you think has the best fashion sense. FAVOURITE CLOTHES, NOT FAVOURITE INCARNATION :o Unless they are the same I mean, go wild
Ah, well… I have actually chosen neither of these options! I did start on the Lucretia/Illithyia idea. But then I drew a hand the wrong way around and only realised once I'd inked it so I gave up… Also, to dress like Lucretia you need boobs. Fact.
I ended up drawing the kind of thing I would wear as a Time Lord. Which is a bit like the second idea?
What looks like a monocle is actually something known as an O.G.L.E.D. (Optical Glass Learn and Engage Device).
I have not put too much thought into this.
P.S. Thank you for humouring me. ;__;
Sep 17
Cause I'm bored

Oh my god yes

Oh, this sounds fun!

WHY NOT. Draw myself in with! Fresh to death!.
I can't promise that I'll actually draw anything, but if anyone wants to send me a prompt, it would be ace. I could do with some distractions… If you want me to draw you in whichever style that would be fun too. Although, obviously, it'll be easier if I know what you look like…
(Source: mikness)
Sep 14
[video]
Jul 09
Anonymously try to seduce me.
Bonus points if you do it as a fictional character of your choice. Seriously, those ones are fun.
(via intheconcertroom)
Jul 02
7. Julia's favourite dress?
I chose this one mostly because I can imagine Sebastian in a matching jacket. And Julia being supremely unimpressed.